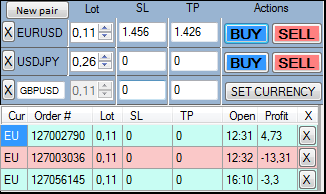 Do you want to trade more efficiently? Our program can help you with that! Probably you know that moments when you see appropriate price on the chart and you definitely know that if you open an order at this moment then you will earn some money with this order. But the price is changing quickly and while you set the parameters for the order in "open order" MT4 dialog the price runs away from that "magic moment"...
So maybe you thought about the tool which allows you to open an order at one click. And our product is what you are looking for! It allows preparing a set of "templates" with predefined order parameters (currency, lot size, SL/TP levels, etc) and then open orders according to these parameters at one click in a fast and convenient way!
Sounds interesting? We will tell you more about the program now so you will see that it can be helpful for you. The program gives you the following advantages:

It saves your time on opening orders, you do not have to fill up that "open order" dialog in MT4 terminal.
It allows you to set SL/TP levels in pips, then when you click "open order" these pips will be translated into price values.
You can choose SL/TP levels visually on your charts by dragging horizontal lines on the charts





Also the program shows you all opened orders in a compact format, you can freely drag it to other screen and concentrate on your charts on the main screen.
Forex Helper is compact and easy to use so just download the program it enjoy the features which it has.